Craig W. Colville, M.D., F.A.C.S
2865 North Reynolds Road #250
Toledo, OH 43615
Phone: (419) 534-6551
Monday - Thursday: 8:30 a.m.–5 p.m.
Friday: 8:30 a.m.–2 p.m.

Mommy Makeover
Women who come to our Toledo, Ohio, practice for a mommy makeover share a common goal of regaining confidence in their bodies. Pregnancy and childbirth are wonderful experiences, but can create physical changes that diet and exercise alone cannot correct. Board-certified plastic surgeon Dr. Craig Colville specializes in mommy makeover procedures, which usually include a tummy tuck and cosmetic breast surgery.
Mommy Makeover

Before & After Photos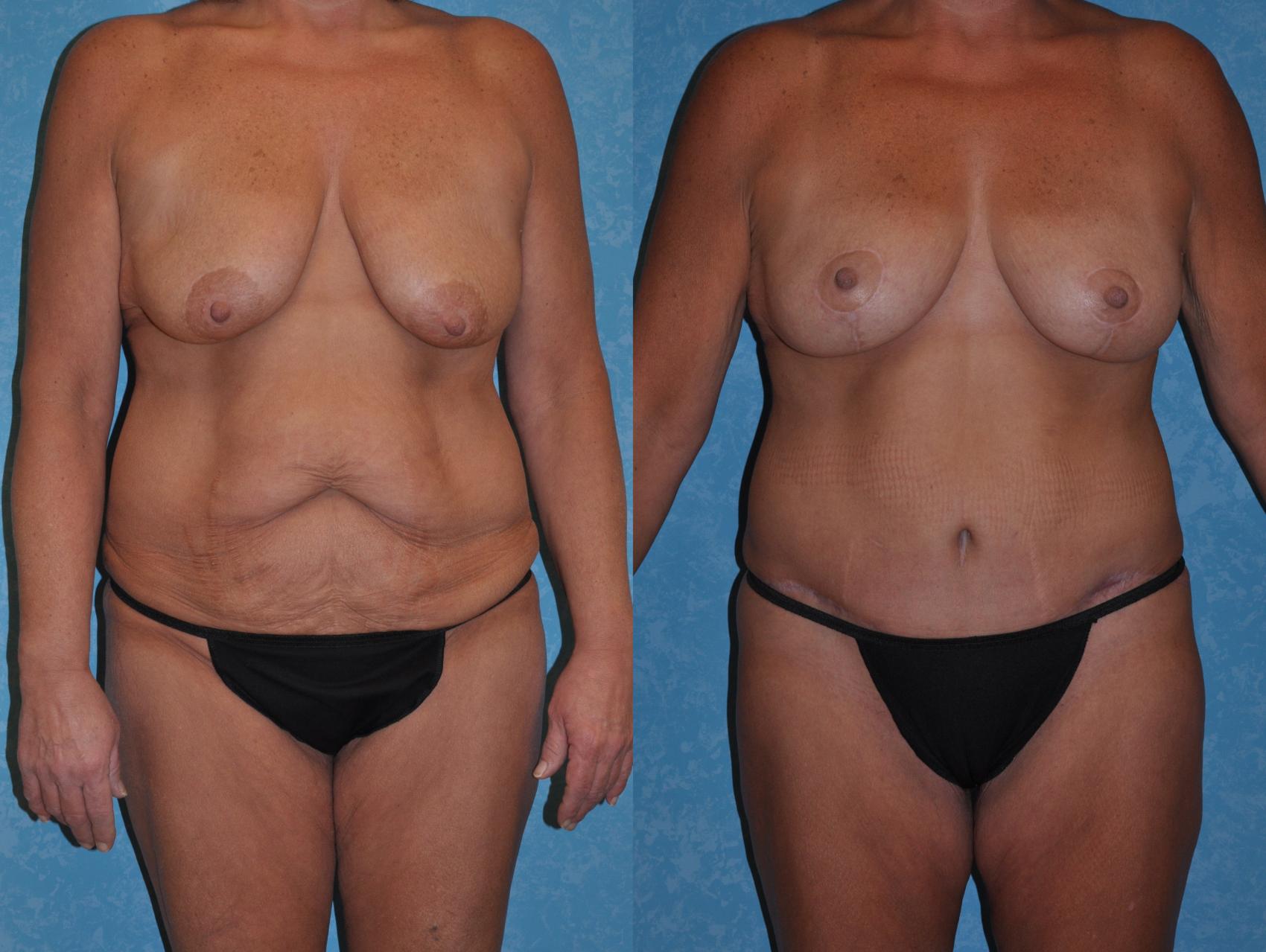 Before & After
Mommy Makeover Case 443
This 55 year old patient decided that she was ready for a mommy makeover. At her consultation she discussed her concerns with Dr. Colville and they decided that a standard mastopexy with an extended abdominoplasty would give her the results that she desired.
Read More

Before & After
Mommy Makeover Case 160
This 26 year old mother was unhappy with the appearance of her abdomen and breasts after pregnancy and childbirth. By combining the breast lift and tummy tuck procedures, Dr. Colville was able to give her a mommy makeover!
Keep in mind that each patient is unique and your results may vary.
Should You Consider a Mommy Makeover?
The changes to a woman's body after having children can be fairly dramatic. Weight changes, breastfeeding, and fluctuating hormones can leave you with sagging abdominal skin and breasts that have lost much of their volume. If these changes have made you lose confidence in your figure, a mommy makeover procedure customized by Dr. Colville can help restore your pre-pregnancy body.
Exercise and diet alone aren't enough to reverse the physical changes after pregnancy. Pursuing a healthy lifestyle is important, of course, but only cosmetic surgery can repair the abdominal wall and remove stubborn fat pockets and excess skin.
Dr. Colville explains how he puts safety first when moms consider the many surgical & non-surgical options available to his Mommy Makeover patients.

A Reputation Built on Results
I have struggled with my breast for my entire life causing me self esteem issues. I had severe asymmetrical...
Dr. Colville and his staff are amazing! The surgery he performed on me has been life changing and exceeded...
I recently had breast augmentation and the experience could not have been any better. The surgery...
I am beyond happy with not only my results from my procedure, but my experience with Dr. Colville and...
Planning Your Mommy Makeover
Dr. Colville customizes your mommy makeover after conducting a thorough physical examination and discussing the specific concerns you have during the consultation. Based on your aesthetic goals, Dr. Colville recommends a combination of procedures that can safely create the results you want in a single operation.
What Is Included in a Mommy Makeover?
The following procedures are most commonly part of a mommy makeover:
Your Mommy Makeover Surgery
The specific nature of your surgery depends on the procedures Dr. Colville performs. He creates a precise surgical plan that addresses your concerns, making patient safety his top priority. He uses general anesthesia during a mommy makeover.
Your procedure may take several hours, depending on the number and type of procedures included in the operation. In most cases, patients return home on the day of the surgery. We can also arrange for an overnight stay if necessary or preferred.
How long does it take to recover from a mommy makeover?
You should plan to take at least 10 to 14 days off of work if your mommy makeover includes a tummy tuck. The recovery from cosmetic breast surgery usually takes considerably less time. One of the benefits of a mommy makeover is the convenience of having a single recovery period following your operation. The specific nature of your recovery depends on the procedures performed.
Whatever your combination of procedures, it's important to have someone at home to help with everyday tasks, especially if you have young children. You must avoid bending over, reaching, and lifting as your body heals. Dr. Colville provides all mommy makeover patients detailed postoperative instructions that should be closely followed to help minimize the risk of complications and help you remain comfortable during the recovery.
If you have any concerns or questions during the first few weeks following your operation, don't hesitate to contact Dr. Colville's office.
Women considering a mommy makeover travel from Findlay and Sandusky, OH, along with Ann Arbor, MI, to have Dr. Colville perform their procedures. You can request a consultation to meet personally with Dr. Colville. Or call our office at (419) 534-6551 to schedule an appointment.