Craig W. Colville, M.D., F.A.C.S
2865 North Reynolds Road #250
Toledo, OH 43615
Phone: (419) 534-6551
Monday - Thursday: 8:30 a.m.–5 p.m.
Friday: 8:30 a.m.–4 p.m.

Ultherapy®
People who are concerned about wrinkles and sagging, thinning skin can find a solution in Ultherapy at our practice in Toledo, Ohio. This FDA-cleared treatment uses ultrasound energy for non-invasive skin tightening. Ultherapy counters the effects of gravity and aging from the inside out, targeting the same deeper tissues that are usually addressed in cosmetic surgery to tighten and lift skin on the face, neck, and décolletage (chest).
By stimulating the body's collagen-building process, Ultherapy gradually lifts and tones the skin, resulting in a more youthful appearance.
Ultherapy

Before & After Photos

Keep in mind that each patient is unique and your results may vary.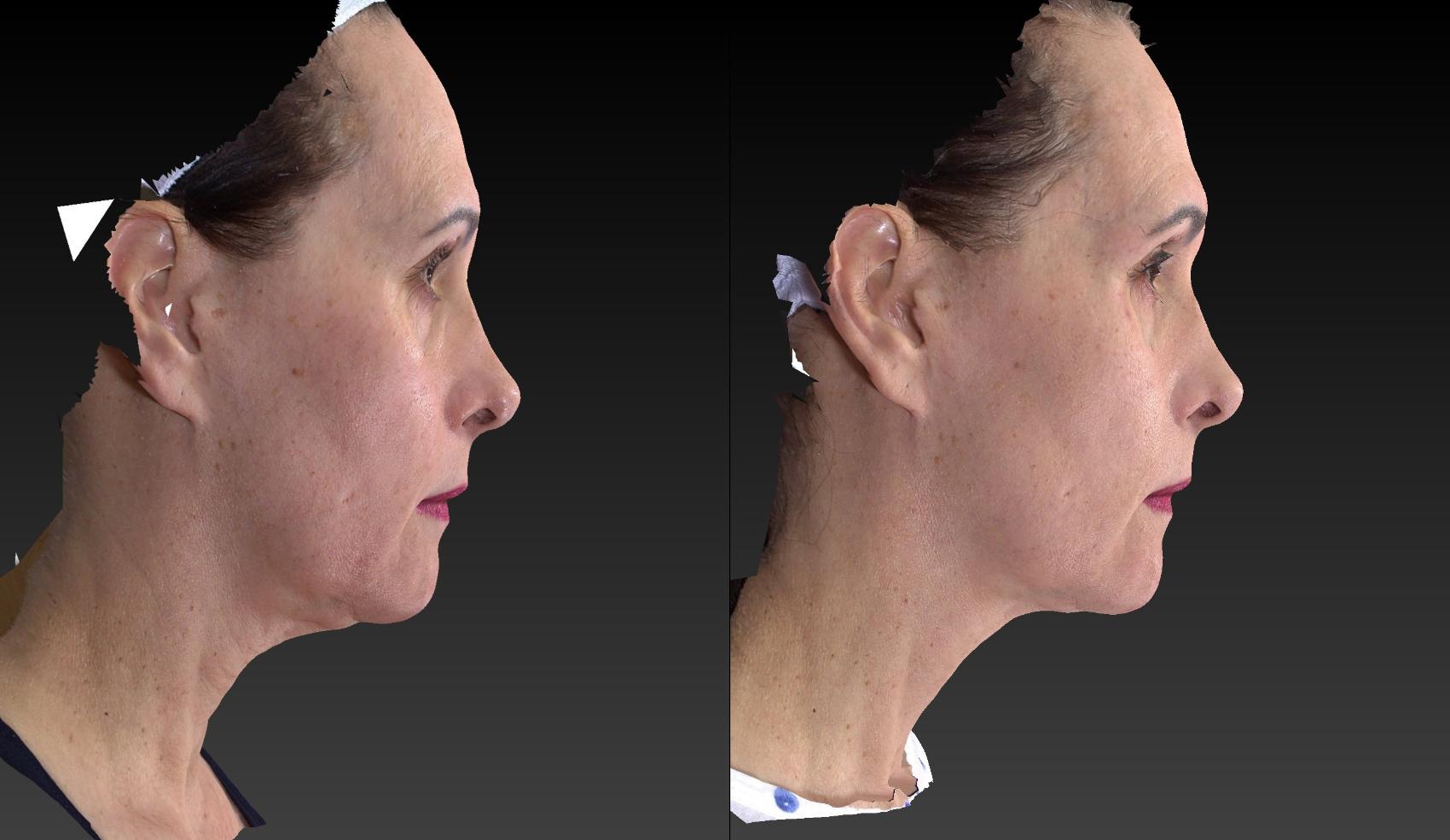 Before & After
Ultherapy Case 205
This 62 year old patient didn't want to undergo surgery, but wanted to improve the appearance of the wrinkles and sagging skin on her face and neck. Her goal was to achieve a slightly more youthful look. After having Ultherapy, the appearance of her neck has improved greatly, along with many other facial features having a more refreshed...
Read More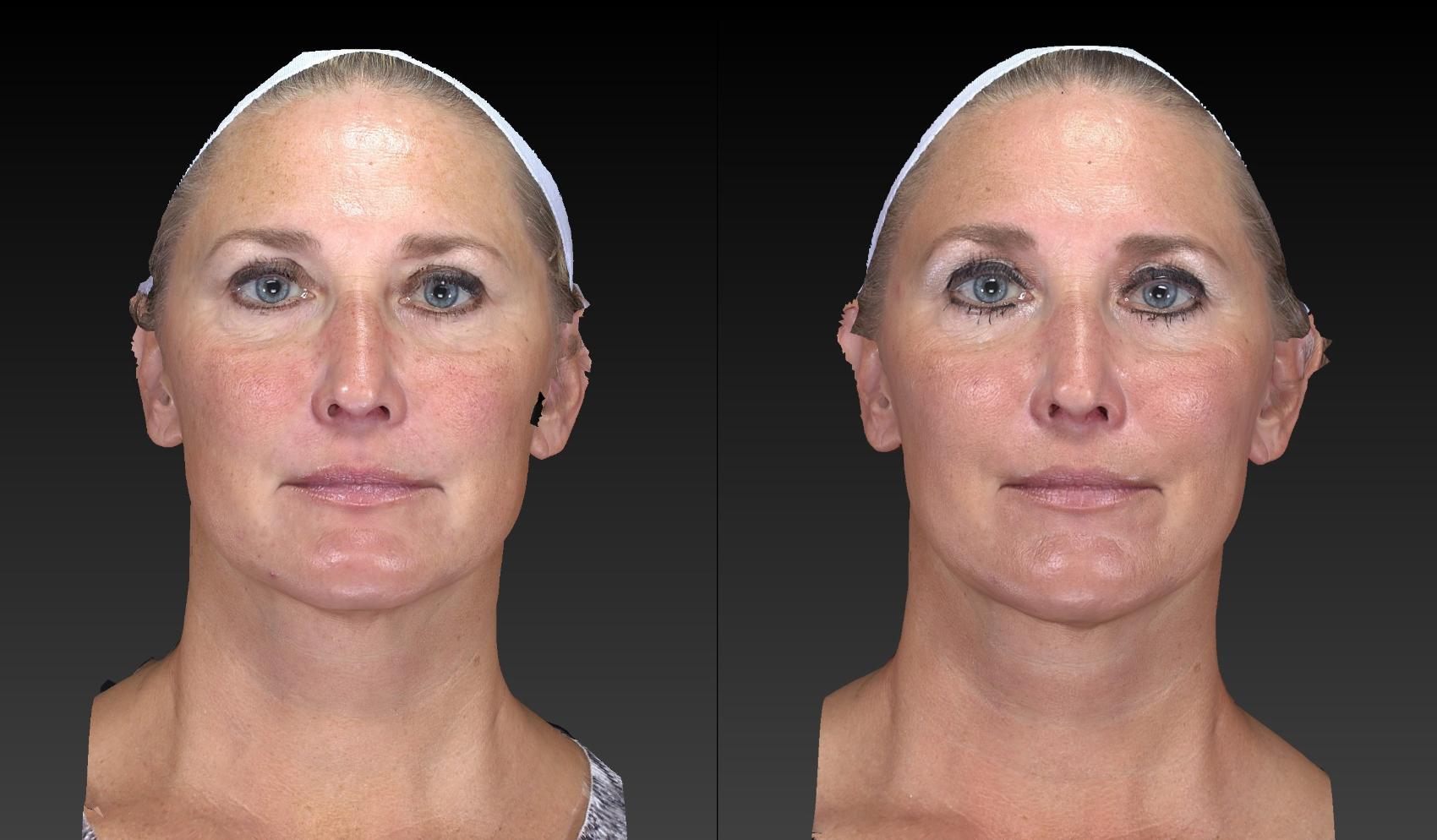 Before & After
Ultherapy Case 209
This 46 year old patient wanted to restore collagen for a more lifted look in her face and neck. Using Ultherapy, we were able to achieve her desired results. Her cheek bones and jaw line now look more toned and lifted for a youthful appearance. These photos were taken using our Vectra 3D Imaging System.
Read More
Keep in mind that each patient is unique and your results may vary.
How Does Ultherapy Work?
Ultherapy delivers focused ultrasound energy to the foundational layer of the skin without incisions or any effect on the skin's surface. Unlike other non-surgical procedures that rely on radiofrequency energy or laser skin tightening treatments, Ultherapy completely bypasses the surface of the skin to pinpoint multiple levels of tissue, heating it to the ideal temperature at which the body begins generating collagen.
Collagen is what makes your skin supple and smooth. By both tightening and lifting the skin, you get results similar to those achieved through plastic surgery, but without downtime.
Who Is a Good Candidate for Ultherapy?
Patients with mild to moderate skin laxity who are concerned about facial wrinkles, sagging skin on the neck or jawline, or lines on the chest are excellent candidates for Ultherapy treatments. Dr. Colville may recommend Ultherapy for patients who initially thought they needed a facelift or neck lift but whose skin retains enough elasticity to avoid surgery.
Your Ultherapy Procedure
After the treatment area is cleaned, the Ultherapist applies a gel to your skin and positions the handheld Ultherapy device against your skin. Using the ultrasound imaging technology, the provider can "see" beneath the skin and carefully deliver the ultrasound energy to various levels of tissue.
During the treatment, you will feel the sensation of warmth as the ultrasound energy is delivered. Comfort levels vary from patient to patient, and any discomfort you feel occurs only for a brief instant when the energy is delivered. Some patients take over-the-counter pain relief medication before the procedure, or Dr. Colville may prescribe an oral sedative that patients take an hour prior to the treatment.
Treatments typically take between an hour and 90 minutes for the face and neck. A chest treatment lasts about 30 minutes. We can treat individual areas, such as the brow, in less time.

A Reputation Built on Results
You deserve the highest caliber of service, care, and results, and at Craig W. Colville MD, FACS, we're committed to providing all that and more. But don't take our word for it—see for yourself what our actual patients have to say about their experiences with us.
Read More Patient Reviews
What Can I Expect After an Ultherapy Treatment?
Because Ultherapy is non-invasive, there is no downtime following the treatment, and patients return to their normal daily activities immediately afterward. Your skin may appear flushed initially, but that fades within hours. Swelling, tingling, or tenderness are common, temporary side effects.
How Long Until You See Results From Ultherapy?
You may notice some initial changes in the first few days after the procedure, but results continue emerging for several months. During that time, your body produces new collagen that slowly lifts and tightens skin in the treatment area. Ultherapy treatment is a process that yields final results after about 6 months. In fact, you may feel tightening and lifting before you see it. In some cases, patients schedule BOTOX® Cosmetic injections about a week after their Ultherapy treatments to create more comprehensive results.
Women and men considering nonsurgical skin tightening treatments such as Ultherapy come from Sandusky, Findlay, Ann Arbor, and other communities in northern Ohio and southeastern Michigan. You can request a consultation using the online form to meet with one of our Ultherapists or call our office at (419) 534-6551 to schedule an appointment.
Back to Top