Craig W. Colville, M.D., F.A.C.S
2865 North Reynolds Road #250
Toledo, OH 43615
Phone: (419) 534-6551
Monday - Thursday: 8:30 a.m.–5 p.m.
Friday: 8:30 a.m.–4 p.m.

Tummy Tuck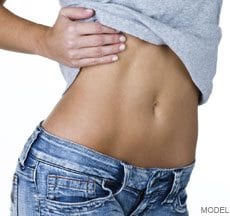 For women and men who would like a smoother, flatter midsection, Dr. Craig Colville performs abdominoplasty, often called a tummy tuck, at his Toledo, Ohio, practice. This transformative surgery is the preferred option for removing excess skin and fat, and tightening lax abdominal muscles – characteristics that often result from pregnancy or significant weight loss. Tummy tuck surgery provides improvements that cannot be achieved through diet and exercise alone.
Abdominoplasty

Before & After Photos
WARNING:
This feature contains nudity. Please click OK to confirm you are at least 18 years of age and are not offended by such material.
OK
Abdominoplasty

Before & After Photos

Keep in mind that each patient is unique and your results may vary.

Keep in mind that each patient is unique and your results may vary.
How Do You Know If You Need a Tummy Tuck?
Tummy tuck is the appropriate procedure when you have more than just fat around your abdomen. Abdominoplasty patients usually have one or more of the following concerns:
Excess, sagging abdominal skin
A protruding belly caused by stretched abdominal muscles
Rolls or bulges of stubborn fat
The appearance may improve somewhat with exercise, but ultimately these conditions require surgical correction. Typical tummy tuck patients have gone through one or more pregnancies or lost a significant amount of weight.
After Pregnancy
Tummy tuck surgery repairs weakened or damaged muscles, removes excess skin, and reduces fat in the midsection. This makes it especially popular with women who have had children, because in addition to stretched skin, pregnancy often causes a separation of the abdominal muscles called diastasis recti. Although diastasis recti sometimes resolves on its own, many cases require surgical repair, which slims the waist and flattens the abdomen.
After Significant Weight Loss
Tummy tuck is also a good option for individuals who have lost a significant amount of weight. These men and women are often left with extra skin and abdominal sagging that prevent them from fully enjoying the results of their hard work.
What's Better a Tummy Tuck or Liposuction?
If you have good skin elasticity and your primary concern is fat around the midsection, liposuction may be a better option than a tummy tuck. Dr. Colville often combines both liposuction and abdominoplasty into a single procedure.
During your consultation, Dr. Colville will evaluate your abdomen and make a recommendation about the right choice for you.
How Is a Full Tummy Tuck Performed?
If you are like most tummy tuck candidates, you will likely benefit from a full tummy tuck. During this procedure, Dr. Colville typically makes an incision on the lower abdomen, extending from hip to hip where it will be hidden beneath underwear or a bikini. In most cases, there is also an incision around the navel. The full tummy tuck allows for muscle repair and fat and skin removal, both above and below the navel.

What Is a Mini Tummy Tuck Procedure?
If your concerns are isolated to the area below the navel, a mini tummy tuck may be appropriate. This version of the tummy tuck requires only a shortened horizontal incision along the lower abdomen. If you're unsure of which approach is best for you, Dr. Colville can help you decide during your consultation.

A Reputation Built on Results
You deserve the highest caliber of service, care, and results, and at Craig W. Colville MD, FACS, we're committed to providing all that and more. But don't take our word for it—see for yourself what our actual patients have to say about their experiences with us.
Read More Patient Reviews
Can a Tummy Tuck Be Combined With Other Procedures?
In some cases, women who undergo tummy tuck surgery choose to combine it with breast augmentation or a breast lift in a popular combination surgery called a mommy makeover. Whichever options you choose, Dr. Colville will be sure to inform you of what you can expect from your surgery and recovery.
Your Tummy Tuck Surgery
To ensure your safety and comfort, Dr. Colville performs abdominoplasty using a general anesthetic. He begins by making the incision low on your abdomen. Depending on your unique surgical plan, he may remove excess fat using liposuction, surgically tighten weakened or separated abdominal muscles, and remove stretched skin, pulling it downward to create a smooth, flat abdominal contour. He may also adjust the navel, if necessary. Once he is satisfied with the shape and symmetry of your abdomen, he closes the incision with sutures. In most cases, he will place at least 1 temporary surgical drain to prevent complications from the buildup of excessive fluid.
Tummy tuck surgery is an outpatient procedure, so you'll be able to return home the same day. You'll need a friend or loved one to drive you home and stay with you as you rest immediately after surgery.
Craig W. Colville, MD, FACS
"My ultimate goal is to design a plan accommodating your wishes and desires in the most aesthetically pleasing manner possible."
Meet Dr. Colville
How Soon Can I Return to Work After a Tummy Tuck?
Most tummy tuck patients take 10 to 14 days off work after surgery. It's imperative that you give your body plenty of time to recuperate and heal before returning to your routine activities.
What Can I Expect After a Tummy Tuck?
During recovery, it's important to have a family member or friend to help you with certain everyday tasks. You should avoid any activities that require you to reach, bend, stoop, or lift. Therefore, you'll need help with things like housekeeping, cooking, errands, and childcare. Dr. Colville also warns against driving until you're no longer taking prescription pain medication.
In most cases, recuperation after tummy tuck surgery is not particularly painful. You will wear a compression garment to help control swelling, and you will receive detailed instructions about showering, changing bandages, caring for your drains, and taking medications. Your surgical drains are removed after about a week, and Dr. Colville and his team monitor your healing at follow-up appointments.
Is a Tummy Tuck Worth It?
The overwhelming majority of tummy tuck patients say the confidence they feel after a tummy tuck is well worth any discomfort they experience during the recuperation period.
Patients considering a tummy tuck come from Sandusky, Findlay, Ann Arbor, and throughout northwest Ohio and southeast Michigan to our Toledo practice. If you're interested in learning more about tummy tuck surgery, request a consultation online, or call Dr. Colville's office at (419) 534-6551 to schedule an appointment.
Back to Top